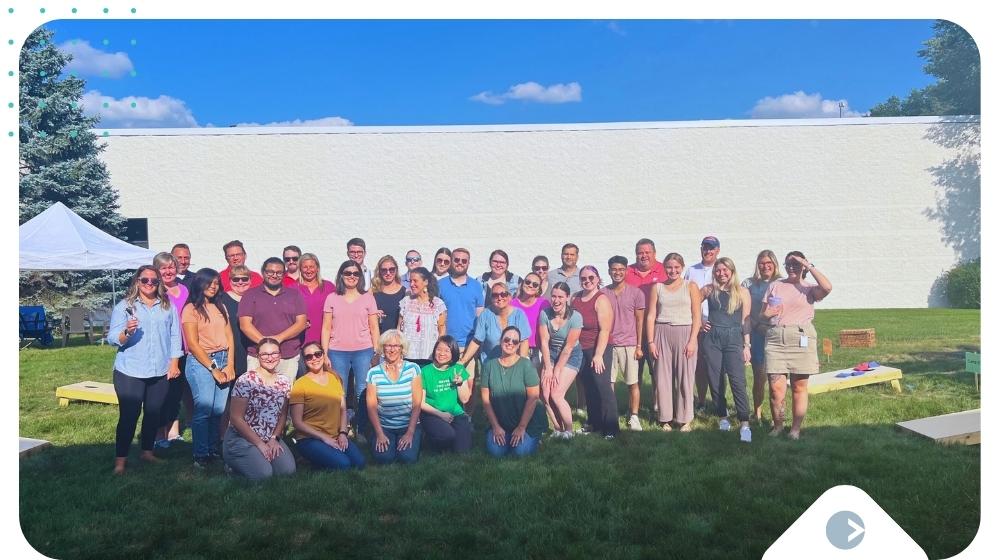 Due to the pandemic, this long overdue trip finally took place in the summer of 2023. I was given the opportunity to travel from Singapore to our WHR headquarters in Pewaukee, Wisconsin to spend some time with my US colleagues.
After doing video calls for the past two years, it was exciting to meet my colleagues in person. The first thing that I said to my US counterpart Jon DesChane (who I talk with almost every week) was, "Oh my gosh, you are so tall!"
Week 1
During my first week in the office, my colleagues organized a potluck. At the pantry, Kay Cucinello from the Household Goods Department came up to me and said "Ni hao" with a big smile on her face. Wow. There were at least fifteen types of food and yes, I tried every single one of them: puppy chow, peanut butter brownie trifle, the famous Wisconsin cheese curds to name a few. My Director, Heather Hess, CRP, GMS prepared at least three dishes and amazed me with her mouth-watering buffalo chicken dip. I was touched by my generous colleagues who took time out of their busy schedule to give me such a warm welcome. If I may paraphrase, the way to a woman's heart is through her stomach!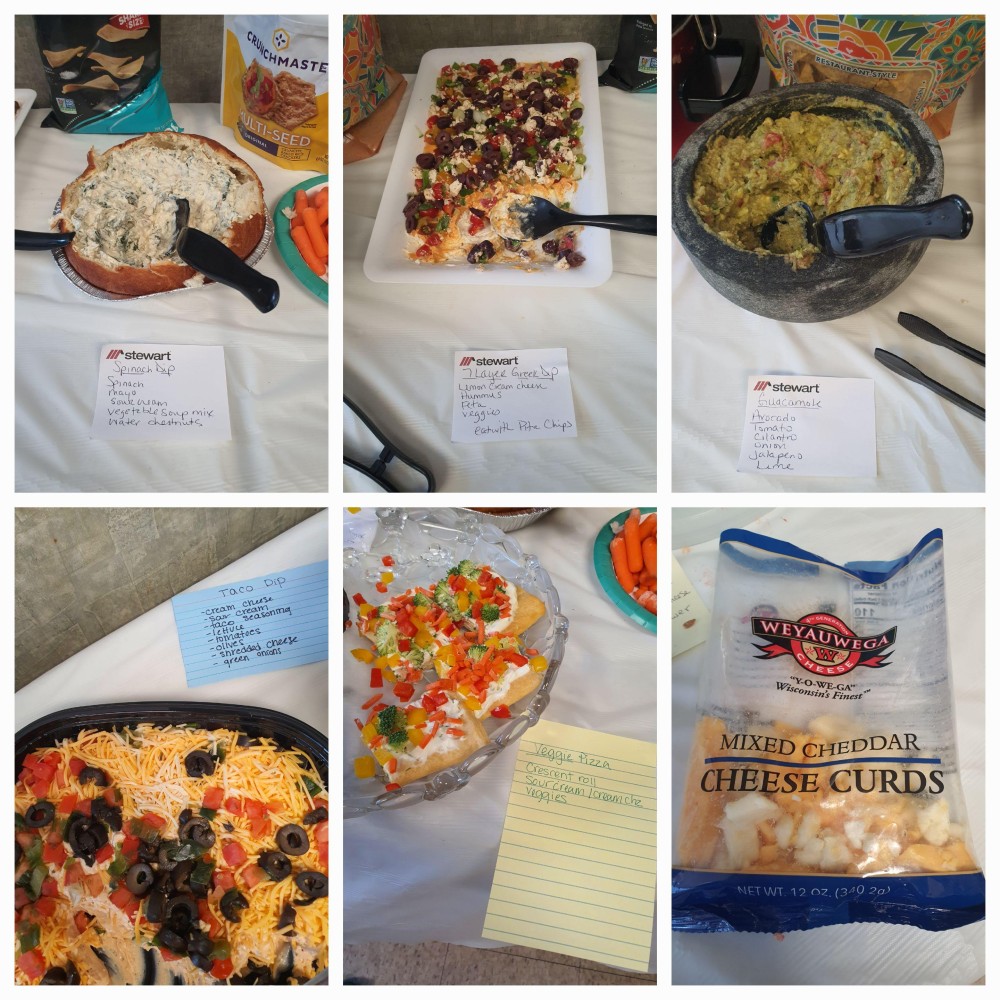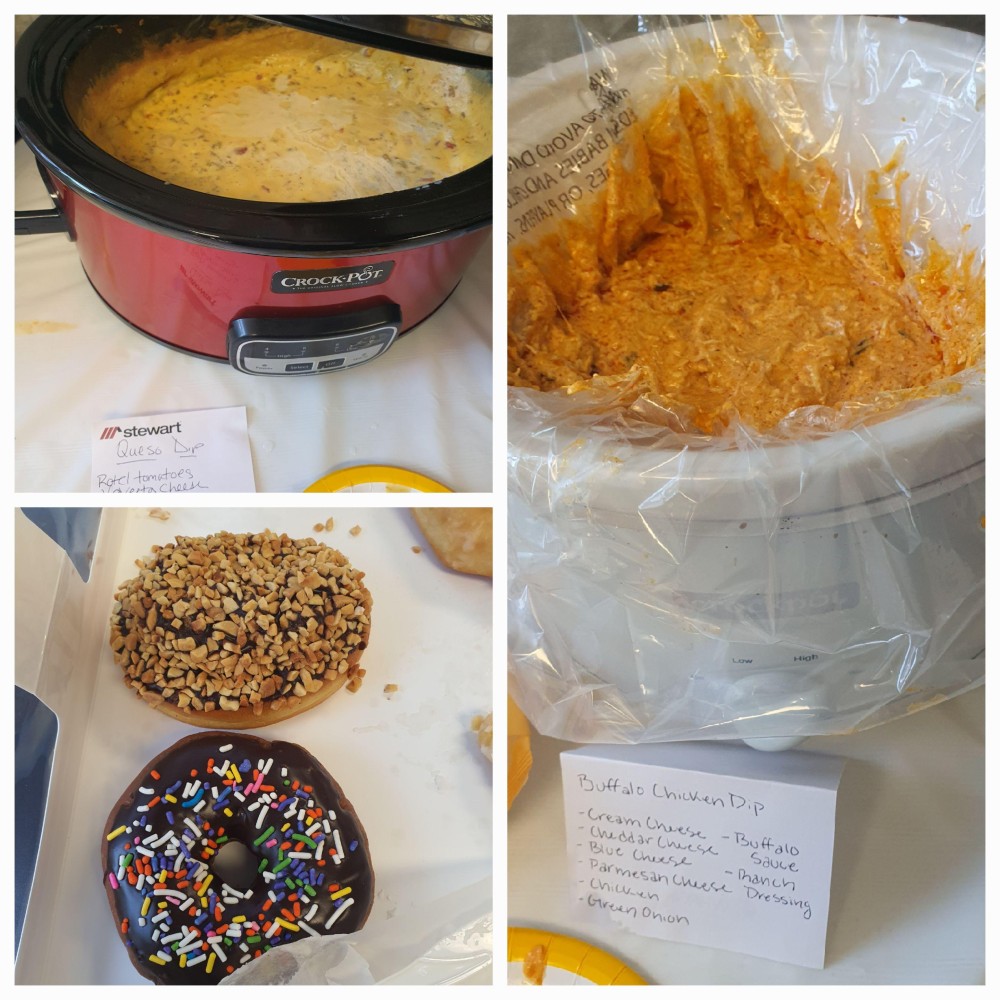 Jon, who reminds me of Sheldon from The Big Bang Theory (I believe Jon actually majored in Physics), thought it would be a good idea to bring me to a baseball game. Despite Jon being an avid sports fan and trying his level best to do a Baseball for Dummies 101 during the game itself, I caught no ball.
Nevertheless, it was definitely a once-in-a-lifetime experience and to me, the highlights of watching the baseball game were:
1. Pre-drinks before the game.
2. A colleague nudged me to remove the Milwaukee Milkmen cap when the national anthem was played as a sign of respect, please pardon the ignorance of a foreigner.
3. During interludes, there were brief interactions with the audience. One was with a war veteran, and he was treated with utmost respect by everyone.
4. Queuing for snacks—I did not try the hotdog as I do not take beef, but the bratwurst was delicious. Special thanks to our Head of Global Sales, Chris Lagerman who gave us all a treat.
5. The fun vibes with people singing along to Neil Diamond's Sweet Caroline (Good times never seemed so good, so good, so good …).
6. Sean Thrun, our Strategic Initiatives Manager bought me a pack of Big League Chew and I learned that chewing gum and baseball have a long history. Sean was in Singapore recently and he knew that chewing gum is illegal in Singapore, I kid you not.
7. Fireworks at the end which lasted for more than fifteen minutes.
By the time the game ended, the temperature had dropped quite a bit. Another colleague from Accounting Department offered to send me back to my serviced apartment. Never in my wildest dream did I imagine that we would end up having a karaoke session in the car, singing JVKE's Golden Hour and Queen's Bohemian Rhapsody at the top of our lungs. I cannot remember when was the last time I had so much fun. This totally changed my perception of our Accounting team, who were usually the quietest bunch in the whole office. Accounting (led by our powerhouse CFO, Jami Long) ROCKS!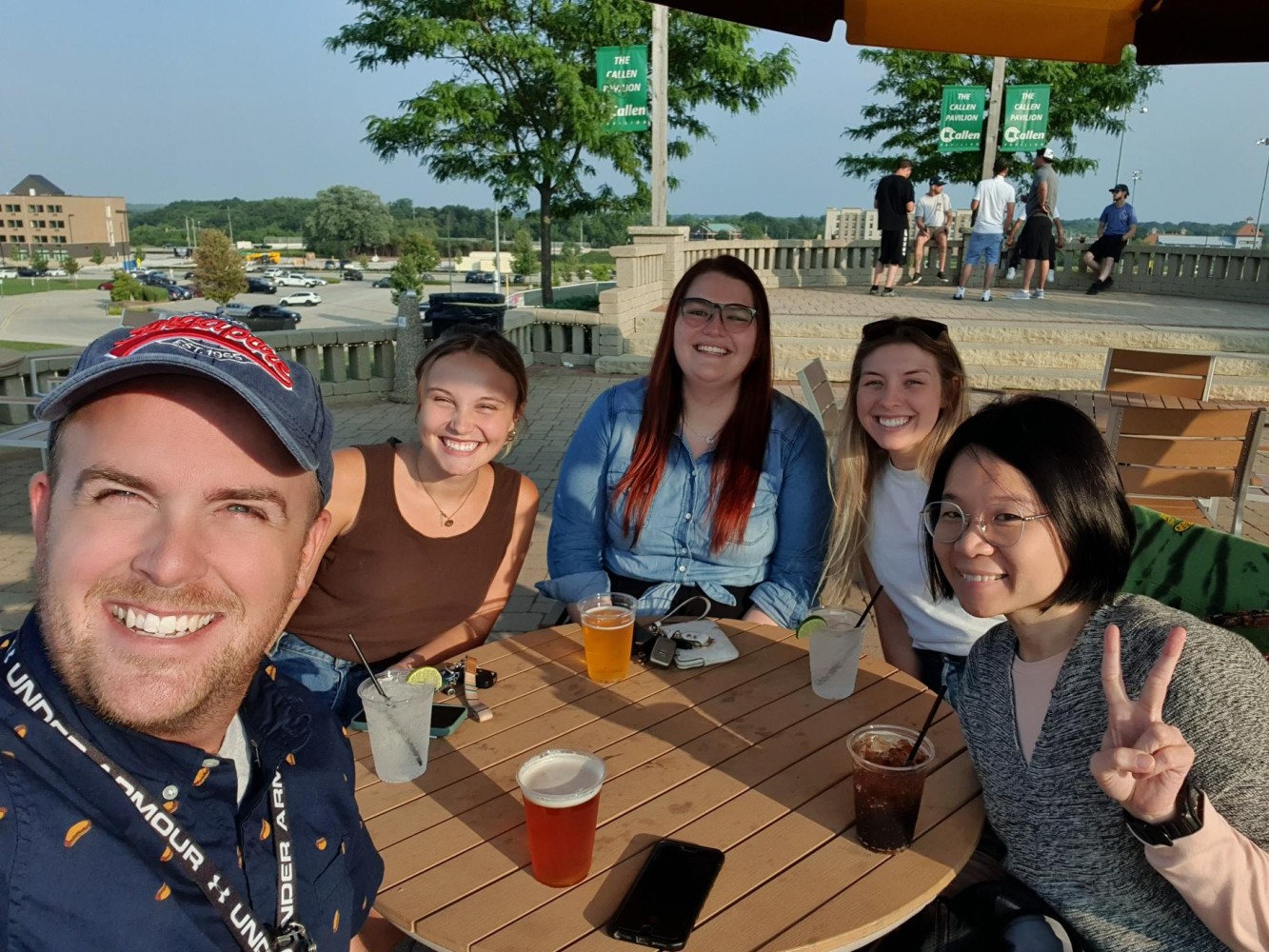 Week 2
My awesome HR Manager Kimberley Uitz, SHRM-CP, GPHR mobilized the entire office to set up the Bags/Cornhole Tournament, which was brought forward to August for my sake. In the spirit of the tournament, my teammate and I came up with the name "Oh Shucks" for our team. The other Client Service Managers, David Peters, CRP and Ben Koceja displayed their agility and prowess in the game effortlessly. A casual toss from these masters and the bean bag goes right into the hole.
I had no regrets squeezing a pair of badminton rackets and shuttle cocks (badminton is one of the most popular sports in Asia) into my luggage because I got a glimpse of our Supply Chain Manager, Adam Rasmussen's competitive streak as he impressed me with his lightning reflexes and powerful smash.
Special shoutout to our IT Director, Jeff Beyer and his boys, who are always on standby to help us with our IT set-up.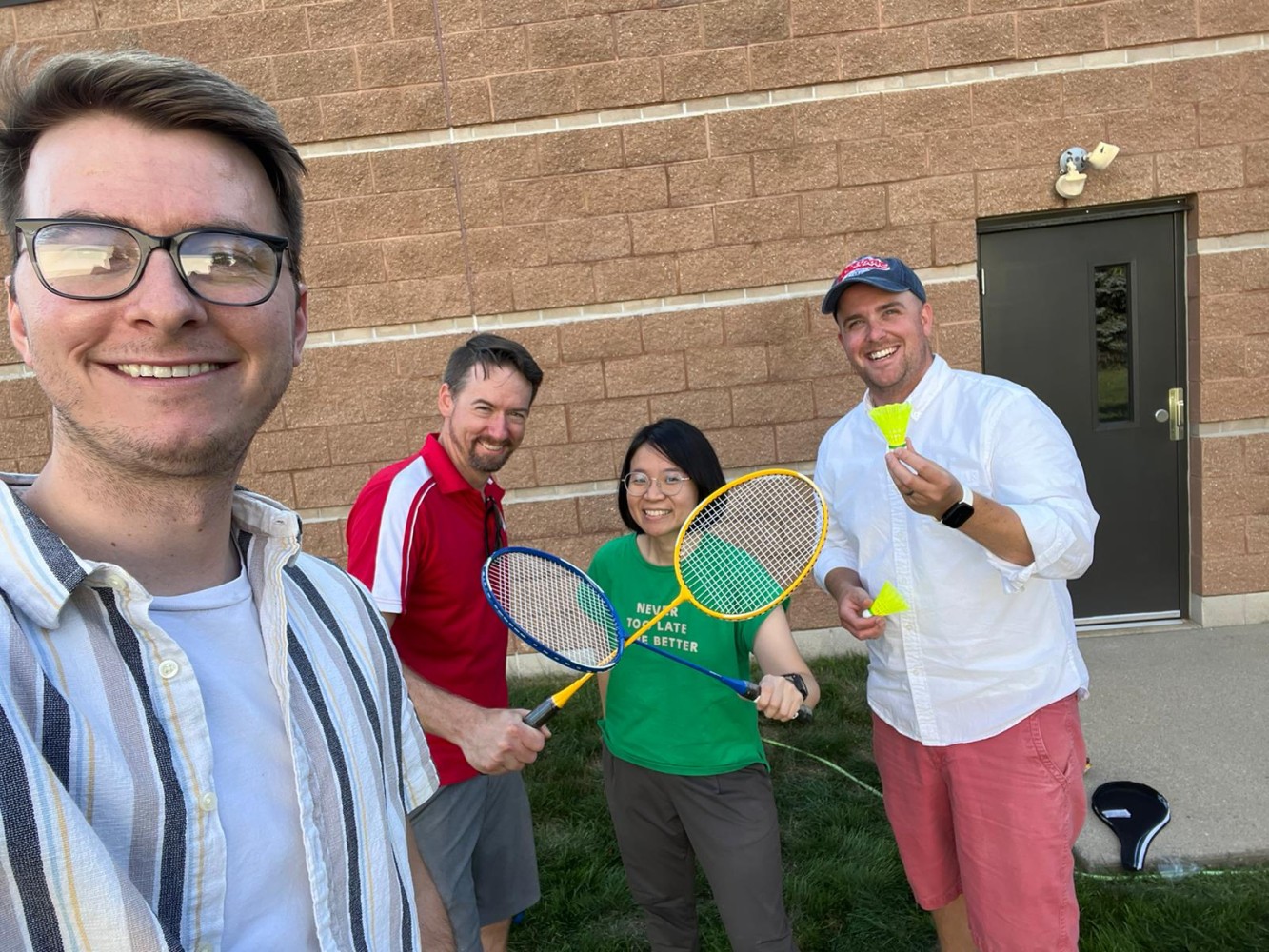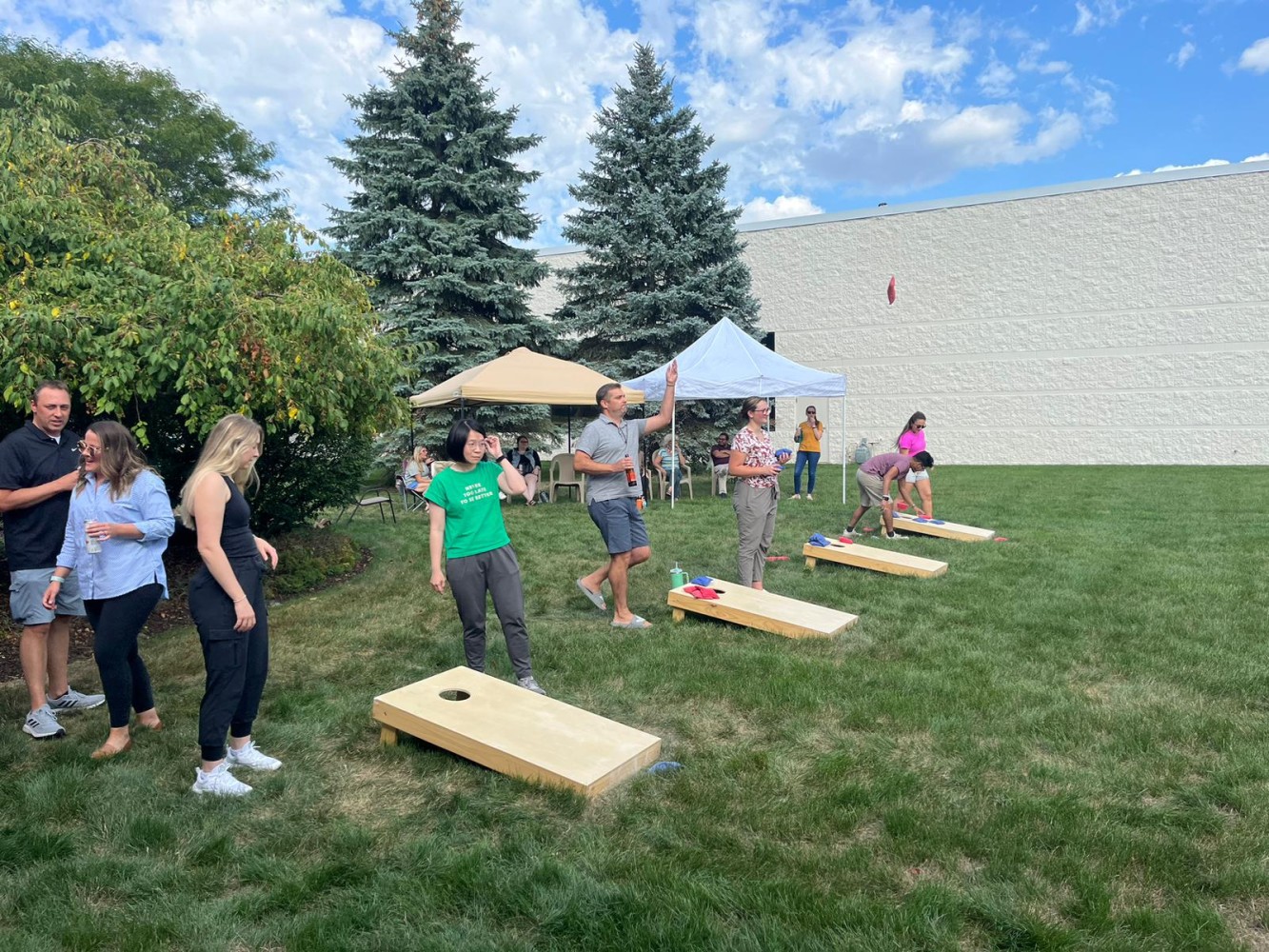 What I learned at our US Office
Generally, what I learned about my colleagues in the US office:
People tend to rise earlier here, and some of my colleagues start work as early as 7am. Lunch is a simple affair where most people bring food from home, unlike in Singapore where going out for lunch is the highlight of our day.
Almost everyone I know in the office has a pet cat and/or dog, some even more than one.
People in Wisconsin love sports, and even if you don't play, you would support a baseball team.
The Midwestern hospitality is real. When Heather brought me to an Arts festival, we were walking around the neighborhood and came upon a family giving out free bratwurst in front of their house. There was a steady stream of people coming in, just sitting together and having a cordial chat over bratwurst. Perhaps it was the summer heat that melted the ice between total strangers, or people are generally friendly in this city. Kimberley and her beautiful family spent their whole Saturday with me: we went for a little hike at the Devil's Lake, visited Wollersheim Winery and they brought me to a shop selling all kinds of cheese (can't miss that in America's Dairyland). My big boss,

Roger Thrun

(founder of WHR) was the perfect gentleman when he brought me out for a tour at his lavender farm, but that is a story for another day.
Myth debunked: US is dangerous. I stayed in a place called Oconomowoc, which was a nice and safe neighborhood. Just like any big city in any part of the world, there are some dodgy places where you would not want to go alone. I am indebted to my team for being such great hosts and planning everything for me to enjoy my first-ever trip to the US.
You can't count someone as your family until you have had a disagreement. There are times when we disagree on how certain things should be done. This could be due to cultural differences, regional nuances and how we perceive things from a different lens. This trip has helped me to understand my US WHR family so much better, and I hope vice versa too. At the end of the day, we all want the best for our family and I know without a doubt, that my family always have my back.